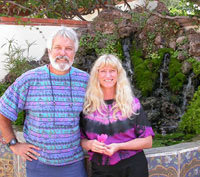 Earl & Gail Cook at Dr. Thie's
TFH Retreat at Serra
Over the past 35 years, we have used the Touch for Health techniques thousands of times to resolve our own everyday aches and pains and as a powerful tool for maintaining our general health. We have directly used the results of this experience in designing eTouch in our efforts to make the Touch for Health techniques even easier to use.
We are interested in your questions, comments and suggestions. Please contact us if we can assist you.
Thanks!
Earl & Gail